弟子彌恩電郵來問:

上師
弟子在唐卡公眾號中發現這張咒輪的出處是:
佩戴解脫——忿寂百尊護輪,14 世紀由噶瑪林巴(Karma Lingpa)所取出之伏藏。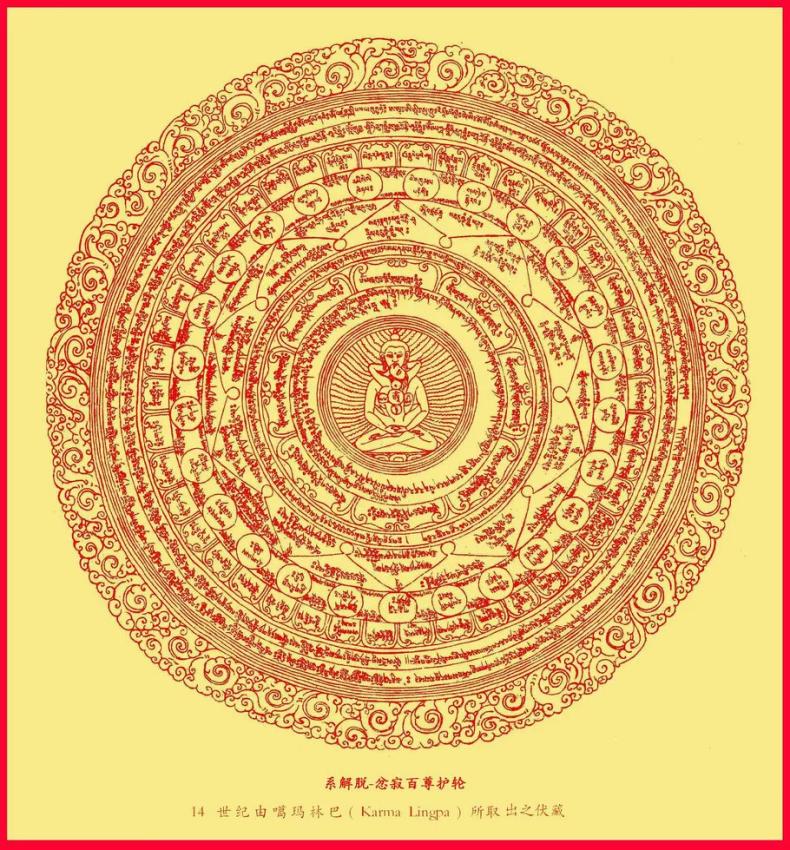 但咱們網站中的圖是這樣的: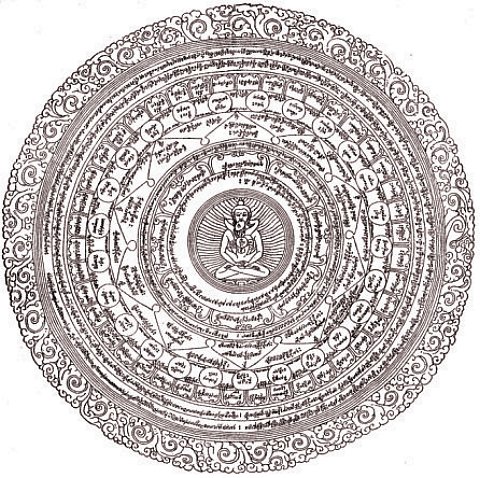 經仔細觀察,網站中的圖是黃顏色的圖的鏡像版,也就是圖像和藏文都是反著的;您看有必要將網站的圖進行調整為如下(將圖片翻轉)嗎? 還是保持原樣呢?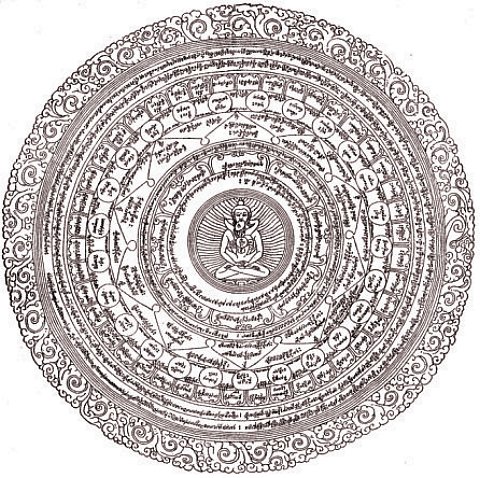 彌恩拜上
答:
問得好。這個問題,很多年前我也曾在偶然間注意到。
原先交佛友印製時,給的是金屬刻版。但是承辦者沒有設備可用該刻版來印,就照相來印。然而,經手的都是不懂藏文的,所以也沒看出是反過來的。其實是應該先用該版印一張,然後纔照相,就不會弄反了。
雖然發現了這一點,我沒有改動。因為,首先,並非有心搞反的。再來,密法的傳續及功效,其實是完全基於以菩提心維護的傳承,而不在於表相如何。所以,此咒輪還是一樣可以佩戴解脫的。
這樣,讓世間有正反兩面的此咒輪流通,又可以讓提出問題的深入弟子們因而了解密法的真髓所在,應該是可以的。
二○二一年九月廿八日
養和齋    於加州
Disciple Mi En noticed that the mantra wheel we posted at our websites is mirror-image version of the mantra wheel with yellow background he found online. Hence, he asked if we need to convert it back to the original fashion.
Many years ago, I noticed by chance this same point.
When we asked Dharma friends to print this mantra wheel, we provided a metallic carved board. However, the printing company lacked the facility to use that board for printing copies. Then, they made a photocopy of the carved board and print from there. Since none involved in the printing processes knew Tibetan, the mirror-image result was not discovered. Actually, they should have print one copy from the board, and then make photocopy of that print, then no reversion would have occurred.
Even though I noticed this point a few years after the printing, I did not make changes. This is because, first of all, the reversion was not done intentionally. Furthermore, the transmission and effects of Tantric teachings are, indeed, rooted in the lineage as sustained by pure Bodhicitta, and not dependent on how external appearances are. Therefore, this mirror-image mantra wheel can grant the same protection through wearing it.
Thus, there will be two versions of the mantra wheel in circulation, and thereby offers opportunity for Tantric disciples who notice this point to realize the true essence of Tantric teachings. Hence, it should be fine to do so.
September 28, 2021
El Cerrito, California