金剛上師林鈺堂瑜伽士開示錄
聖誕節耶穌火供答問
在見到耶穌火供相片後,波蘭弟子虛明提出下列問題:
為何是用釘十字架的圖片,而非聖誕的圖片?
我回答如下:
陳祖師在舉行耶穌火供時,用兩張圖片;在聖誕節時用的是釘十字架的圖片,而在復活節時用的是耶穌跪著祈禱的圖片,並且在耶穌頭上還有耶穌飛昇天堂的圖片。在我們所舉行的所有耶穌火供中,我們一直遵循這個傳統。
這個火供儀軌的名稱是:耶穌教五聖尊息法護摩儀軌;見:
http://www.originalpurity.org/gurulin/b5files/f1/f1012.html
然而,通常我們就簡稱之為:耶穌火供。
這個火供是在耶穌生平重要的兩個節日舉行,但是這並不表示此舉只是為祂的出生或復活而已。從儀軌內文,顯然可見釘十字架是此儀軌的重要部分。
雖然在儀軌中沒有列出,在每次的耶穌火供裡,我們都供奉耶穌出生時所收到的三樣禮物:乳香、金(箔)、沒藥。
此外,在拙作《朝佛沐恩記》內,
http://www.originalpurity.org/gurulin/b5files/b0/b0028.html
從下列段落的說明可見將個人的辭世與出生聯結的意義:
早餐後再度往朝佛誕聖地。在池畔有一棵大菩提樹,樹身下端半空,其內安一小塔,塔內供一尊臥佛像。在佛誕地供奉代表涅槃的臥佛,提示朝佛者要緬懷佛陀一生事蹟的表率;創設者頗具慧心。我獻哈達及五果於此塔。
二○一七年十二月廿八日
養和齋     於加州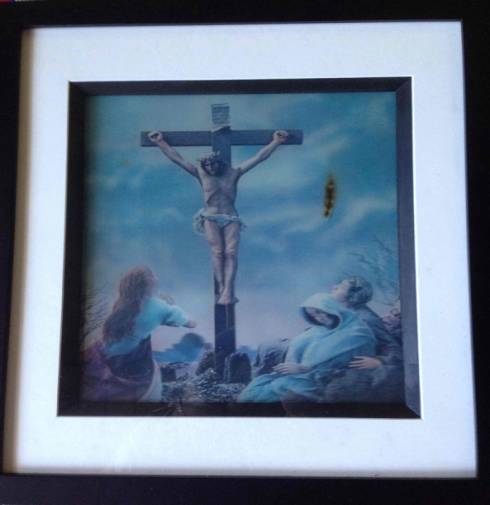 Holy image on altar at Christmas fire puja to Jesus
聖誕節耶穌火供神壇上的聖像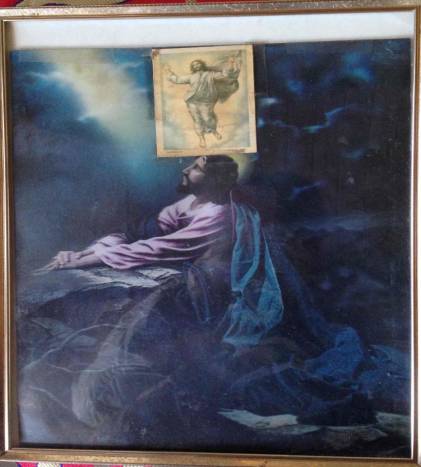 Holy image on altar at Easter fire puja to Jesus
復活節耶穌火供神壇上的聖像
Reply to Question on Christmas fire puja to Jesus
Yutang Lin
Upon seeing the Jesus Fire Puja photos, disciple Xu Ming sent the following question from Poland:
Why there is crucifixion picture and not nativity?
My replies are as follows:
Patriarch Chen used two images for fire pujas to Jesus; the one used on Christmas is depicting the crucifixion, while the other one used on Easter shows Jesus kneeling in prayer and above his head is a picture of Jesus flying up to the Heaven. We have been following this tradition in all our fire pujas to Jesus.
The fire puja ritual is entitled: Homa Ritual Honoring the Five Saints of Christianity; see:
http://www.originalpurity.org/gurulin/efiles/e0/e0068.html
But, to simplify matters, we usually just call it: Fire Puja to Jesus.
The fire puja is performed on two important dates in Jesus' life, but it is not for his birth or resurrection only. From the ritual texts it is obvious that crucifixion is an important part of this ritual.
Even though it is not listed in the ritual, during the pujas we always offer the three gifts that Jesus received at birth: frankincense, gold (leaves), and myrrh.
Furthermore, in my book, A Blessed Pilgrimage, http://www.originalpurity.org/gurulin/efiles/b0/b0029.html
you will find the following remark that shows the significance of relating one's passing away with one's birth:
15. BUDDHA'S BIRTHPLACE—LUMBINI
After breakfast I visited the holy site of Buddha's Birth again. Near the pond there was a large Bodhi tree with half of its lower trunk hollowed; inside the hollow was a small stupa enthroning a statue of the reclining Buddha. Erecting a stupa for the reclining Buddha, which signifies Buddha's Pari-nirvana, at the site of Buddha's Birth, was indeed a very wise way to remind pilgrims of Buddha's life as a whole. I offered a khata and five fruits at the stupa.
December 28, 2017
El Cerrito, California

---
[Home][Back to list]