曉諭聖像     林鈺堂  簡繁轉換 - 繁體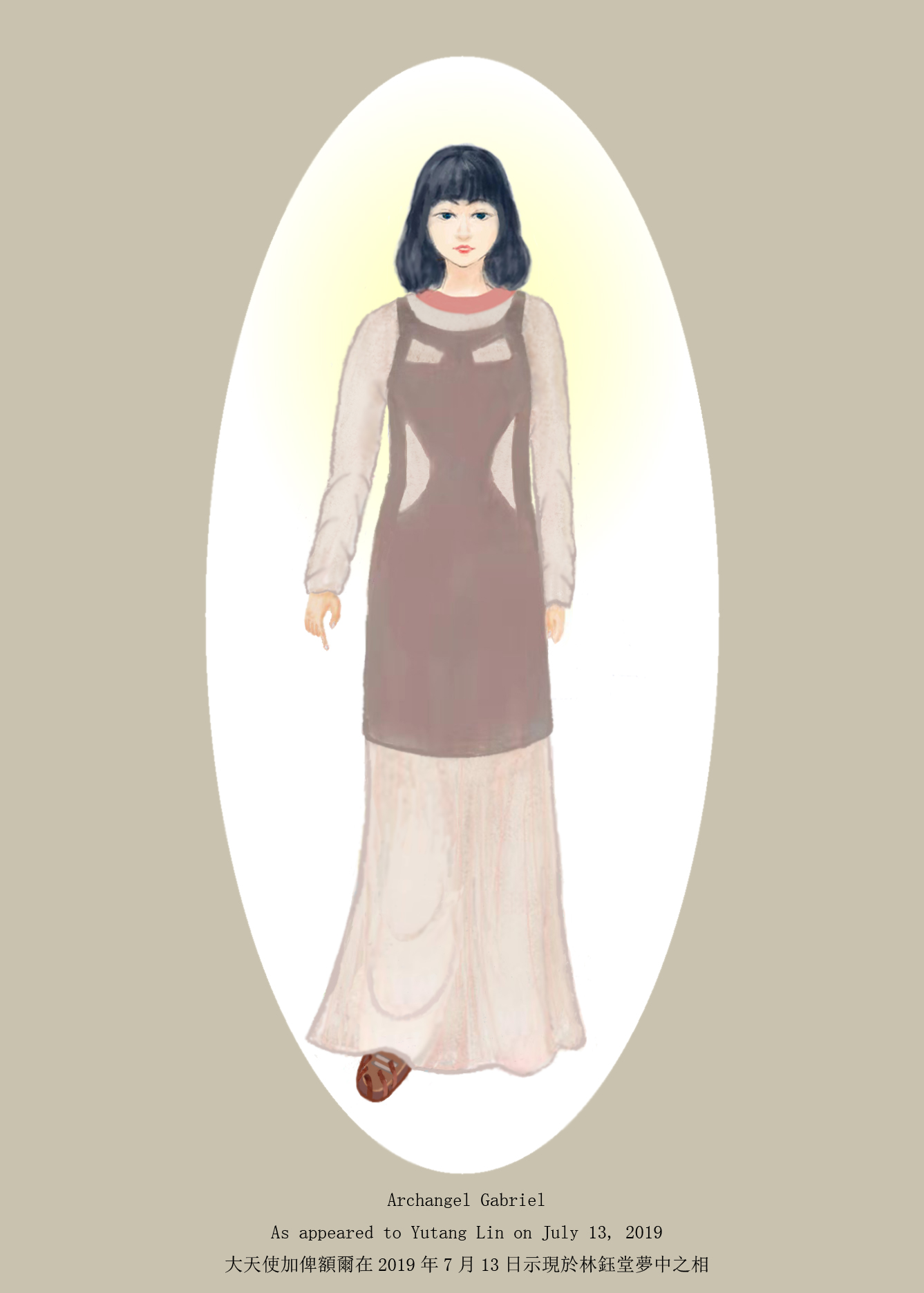 High-resolution File for this Holy Image
此聖像之高解析度圖檔
2019年7月13日醒前,夢見大天使加俾額爾;已有短文〈大天使咐囑〉(F2306)記載,並已依照咐囑,敬撰〈懺悔五毒回復本淨儀軌〉(F2307)。
為了紀念聖尊曉諭之恩,以及供此儀軌法會懸掛,以求加持,我請弟子海涵在電腦中,依我記憶之要點,敬繪我蒙聖眷所見之聖像。海涵先請女兒安琪根據我陳述的要點以及相關資料,以鉛筆繪製出大概輪廓方案,再由安琪通過平板電腦繪圖軟件製作彩色電子文檔,接著再經過數次電郵往返、由海涵依我說明及採納安琪建議作修訂之後,終於逐步完成近似的聖像檔。巧妙的是,安琪在學校上英語課的英文名字是Angel,即「天使」。
大天使加俾額爾通常顯示為男武士,但在此次感應中則顯現為女武士。這是因為聖眾都沒有形體的束縛,可以隨緣任意示現。觀音的「三十二應」便是如此。多年以前,我也曾夢見女天使;她有長的兩翼,但是她隨即把兩翼收進後背,完全看不出來(參見F0229〈天使駕臨〉)。此次大天使加俾額爾也是顯現沒有兩翼的樣子。
感恩大天使加俾額爾的示現及咐囑,也感謝海涵及彼女之敬謹從事,使得此聖像圓滿造成,能夠與眾分享,以及在今後的弘法行中,供陳於法會。
                     二○一九年八月十三日
                     養和齋    於加州
Holy Image of Instruction
Yutang Lin
In the morning of July 13, 2019, right before I woke up, I saw Archangel Gabriel in a dream; I have recorded it in a short article ″Assignment from Archangel″ (E0252), and have also followed the instruction to compose the ″Ritual for Repenting Five Poisons to Resume Original Purity″ (E0253).
To commemorate the Grace of Her Holiness′s instruction, and to make Her Holy presence, bestowing blessings, available during the ritual ceremonies, I asked disciple Hai Han (Ocean-like Embrace) to reverently paint, in computer, the holy image as I remembered what I witnessed. Hai Han, at first, asked his daughter An Qi to draw a pencil sketch of a general outline according to the key points of my written description and related materials, and then she used a drawing software in a tablet to create a color image file. Afterwards, through many email correspondences back and forth, Hai Han made refinements according to my review suggestions and some improvement suggestions offered by An Qi, and gradually a holy image with close resemblance to what I witnessed had eventually emerged. Coincidentally wonderful is the fact that, the English name used by An Qi for English lessons at school is ′Angel′.
Archangel Gabriel usually appeared as a male warrior, but during this inspiration appeared as a female warrior. This is because holy beings have no restriction in form and appearance, and they can appear in any way as they find fit for the occasions. Guan Yin′s ″Thirty-two Transformations″ also demonstrate this point. Many years ago, I also saw a female angel in a dream; she had a pair of long wings, but she soon folded the wings into her back, and then it appeared as if she had no wings at all; see ″An Angel′s Visit″ (P0140). In the current inspirational encounter, Archangel Gabriel also appeared without wings.
My gratitude to Archangel Gabriel for holy audience and instructions, and thanks to disciple Hai Han and his daughter for dedicated service in this endeavor so that this holy image has been perfectly accomplished to share with all and making it available for future assemblies of this ritual ceremonies.
Written in Chinese and translated into English on August 13, 2019
El Cerrito, California