安渡卡
Safe Passage Card
林鈺堂
Yutang Lin
祈求安渡偈

法界本淨主 一誠感應尊

修法濟眾苦 甘霖遍大千

病毒肆虐猛 感染傷害深

祈求慈悲祐 歷險得安渡

Pleading for Safe Passage Gatha

Host of Original Purity

Holiness of single-minded inspirations

Practicing Dharma to alleviate all sufferings

Nectars spraying all over the Dharmadhatu

Viruses violently spreading calamities

Infections are making much damage

We plead for Your compassionate protection

Grant us safe passage through dangerous situations

www.yogichen.org
www.yogilin.org

www.originalpurity.org
為疫病平息祈禱,為大家安渡求護祐,近來我作了〈祈求安渡偈〉;周文翰居士在讀了拙作〈如何得安渡〉後,設計了前為觀世音菩薩聖像,後為中英偈文的佛卡,以供大眾。此卡隨身,有觀音護祐,又可常念誦〈祈求安渡偈〉,有助信眾在此恐慌瀰漫之際,保持寧靜。特地公佈於此,願大家依之得安渡。
三月十八日補記:
舍妹教我,可將此卡之圖檔存為手機之鎖屏壁紙或主屏幕壁紙,即可達到隨身攜卡之功用。
聖像及偈直排,以供手機收存,附於文後。
二○二○年三月十五日
養和齋    於加州
To pray for pacification of current plague, and to plead for safe passage under the protection of Guan Shi Yin Bodhisattva, recently I composed ″Pleading for Safe Passage Gatha″. Upasaka Wen-han Chou, having read my recent article on ″How to Gain Safe Passage″, designed a Dharma card with the  holy image of Guan Yin in front, and the text of the Gatha in Chinese and English on its back, for all to share. Carrying this card in person may gain protection from Guan Yin, and also, may be used for reciting the Gatha often; thus, it could help faithful ones to remain tranquil amid the current atmosphere of widespread panic. It is publicized here for all to share and may all gain safe passage thereby.

Appended on March 18:
My sister taught me that, by saving the image files of this card as lock screen wallpaper or home wallpaper of one's smartphone, the same functions of carrying this card with one can be served. The holy image and Gatha arranged vertically for smartphone wallpaper is added at the end of this work.
March 15, 2020
El Cerrito, California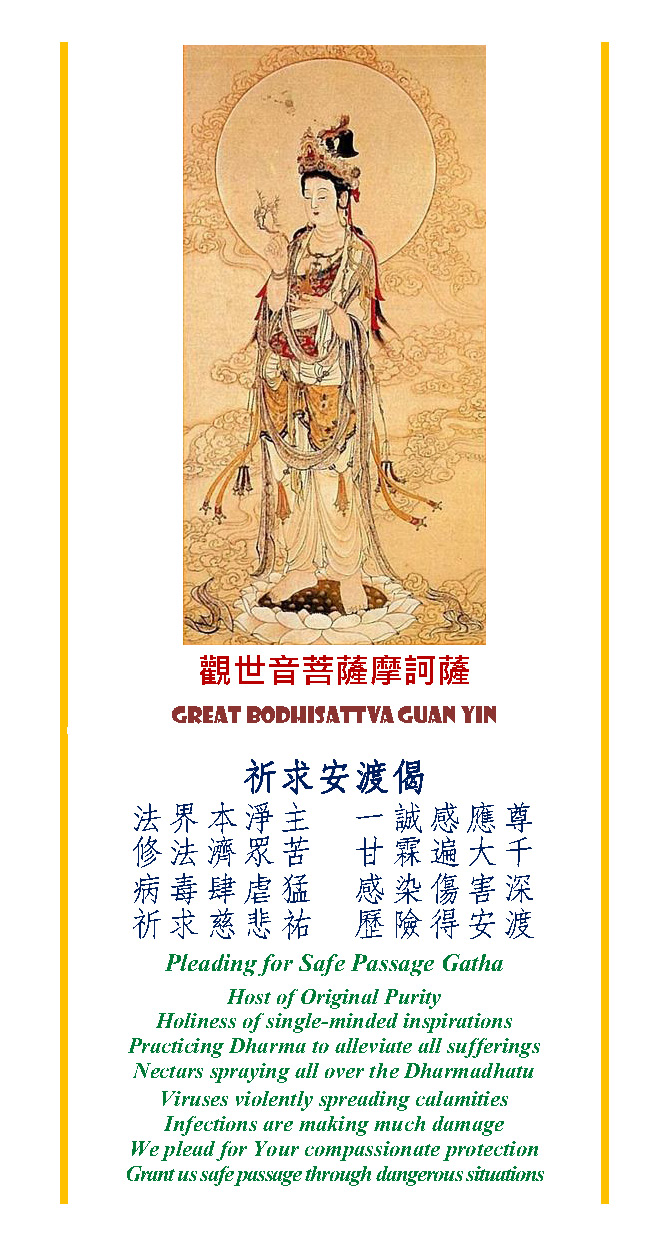 [Home][Back to list][Related works : 如何得安渡 How to Gain Safe Passage 、祈求安渡偈 Pleading for Safe Passage Gatha]