供地球儀
Offering Terrestrial Globe
林鈺堂
Yutang Lin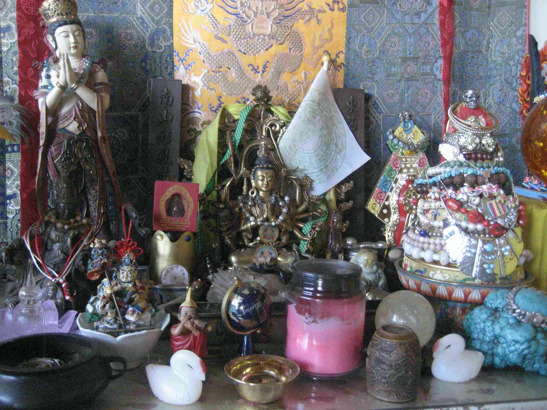 陳祖師的佛堂,在供桌側安設一個地球儀。我追隨上師之後,也效法之。
目前寓所的小佛桌上,我也安置了一個小小的地球儀(見附圖)。每天晨午晚三次供佛時,就順時針稍轉一下,使得不同的區域朝向諸佛;表示為不同地域的眾生求佛加持——當然,根本存心是平等地為一切眾生祈請,而這樣轉動,則是表示不忘尚未直接朝向佛的眾生。
這樣做,也能助長行者對眾生的時時關懷,所以寫出來與大家分享。
二○二○年二月廿九日
養和齋    於加州
In Patriarch Chen′s altar room there is a terrestrial globe besides the altar table. Since I followed his steps, I have also done the same.
On the small altar table of my current residence I have also placed a small terrestrial globe (See photo inserted above). Thrice daily, when I make offerings to the holy ones in the morning, at noon, and in the evening, I turned the globe clockwise a bit so that different areas will face Buddhas directly, and thus signifying that I am praying for all beings in various areas—of course, the basic intention is to pray equally for all sentient beings, and by thus turning the globe, it signifies not forgetting beings who have not yet faced Buddhas directly.
Practicing in this way may help Dharma practitioners to cultivate their constant caring for all sentient beings, and hence I put it down in writing for all to share.
February 29, 2020
El Cerrito, California