林鈺堂
弟子供我五尾小魚,長約一小指節——平底的碧璽上面刻成魚的上半。在附近的日本日用品店,找到一個白色橢圓的醬油碟子;注入清水,安置魚群,便成了書桌案頭的小魚池。供魚的弟子說,他從未想到這樣做。
每天在水龍頭下以清水注入,換出舊水,順便以指頭擦拭池底及魚身。水流便將魚群在池中的散佈位置變換了;所以,雖是嫻靜的魚池,也有種種佈局可觀——不死的魚也可呈現活的動態。
佛法的修行者,一般不養寵物,以免產生執著,以便專心修行。這樣的看養小魚池,可以怡情靜居,也沒有很多照顧上的煩瑣,更顯示了「死物活用」的巧妙,也順帶培養一點對有情的關懷,所以寫出來與大家分享。
日本的「盆栽」也是此類的寄情方式。
二○一七年十二月十六日
養和齋     於加州
小魚池之補充說明

一年前我安置了一個小魚池。
今年在亞洲同一位弟子又供了我5朵綠松石的雕花,我馬上想到要加入小魚池陪襯魚群。
在一間日本店我找到一個稍大些的淺陶碟,十分美觀,就將魚群轉安於此碟內。
今天這五朵石花寄到了,因此我得以實現我的構想;見附呈相片。
在佛法裡,有以魚代表眾生的。
因此,我將小魚池安置在石雕的觀音像前,表示我祈請觀音加持一切眾生。

鈺堂

2018年12月18日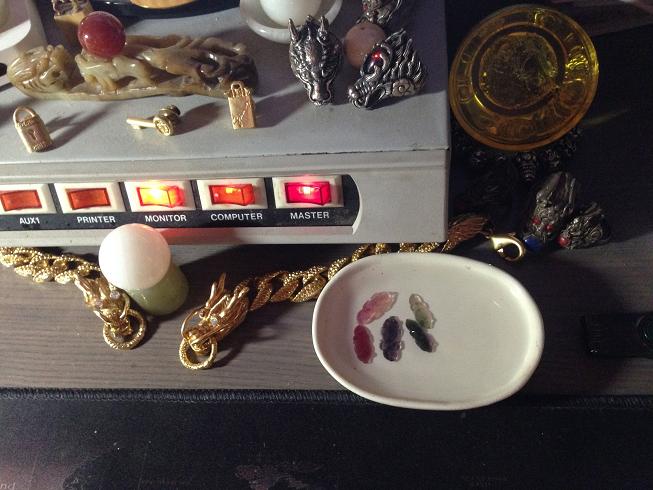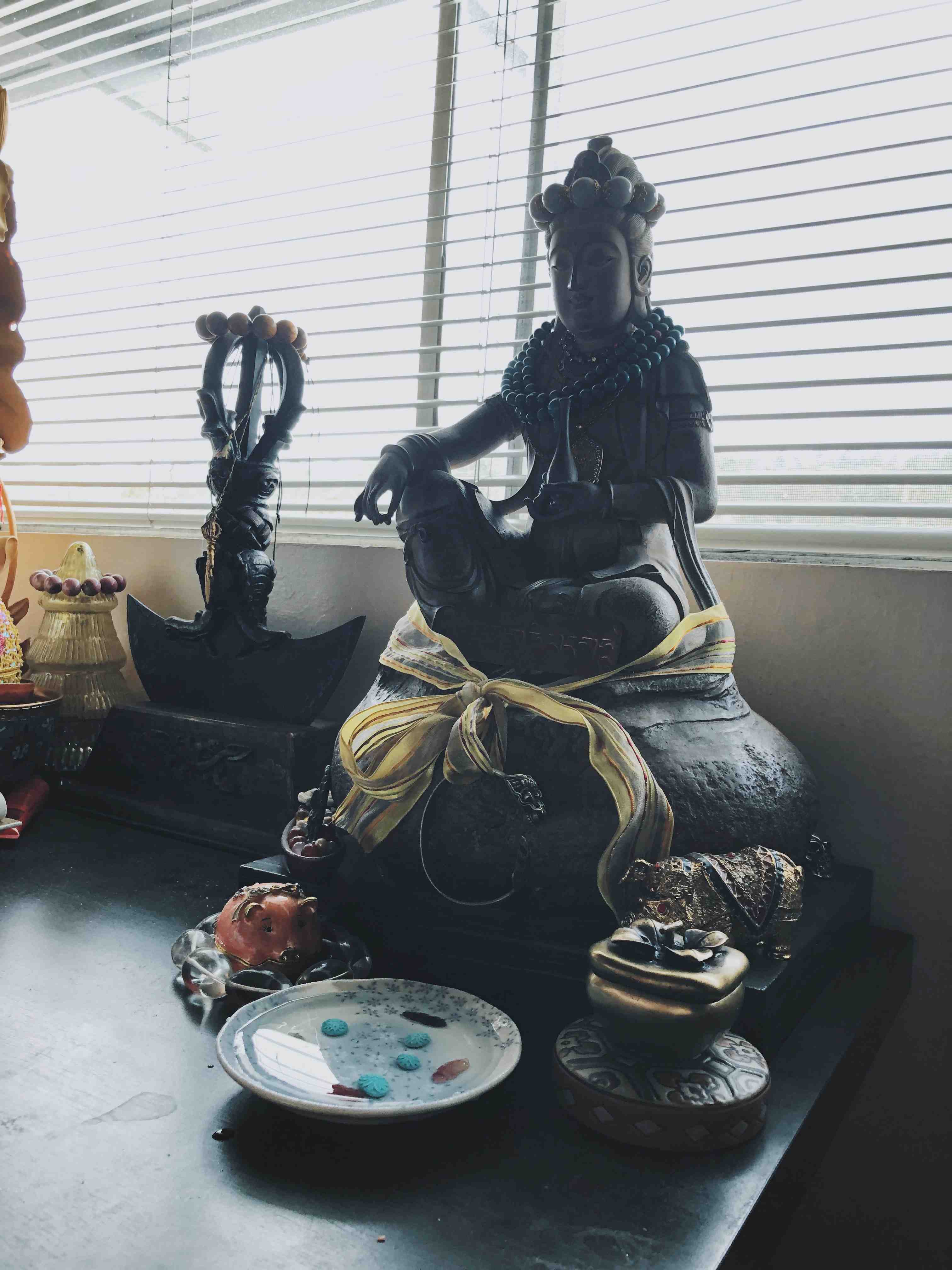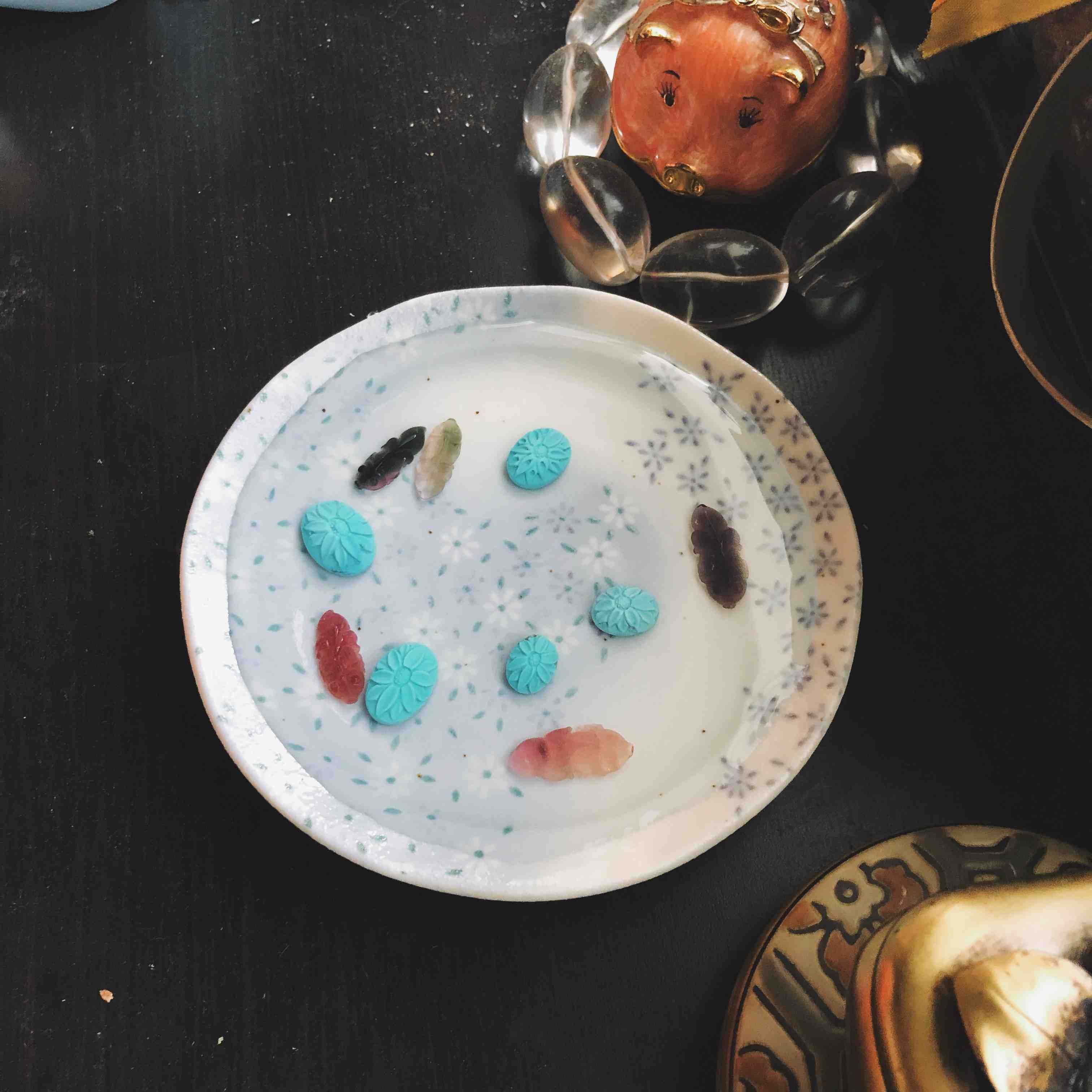 Tiny Fish-pond
Yutang Lin
A disciple offered me five tiny fish—flat-bottom tourmaline with its top carved into shape of the upper-half of a fish, and each one is about one section of one little finger in length. In a nearby Japanese daily-necessities shop I found a white oval sauce-dish; set the fish into it and then pour fresh water into it, it became a tiny fish-pond on my desk. The disciple who offered these fish said, he had never thought of doing it in this way.
Daily I changed the water in the pond by letting water flow down from the faucet into it, while I use one finger to rub the bottom of the pond and the bodies of the fish. The running water changed the position of each fish naturally; hence, even though it is a quiet fish-pond, it still offers all kinds of display of positions—deathless fish can still exhibit lively movements.
In general, Dharma practitioners are not supposed to raise pets, lest they become attached to their pets, and so that they may concentrate on their Dharma practices. Looking after a tiny fish-pond in this manner may offer subtle pleasure to a quiet life, without incurring much chores of a caretaker; furthermore, it illustrates the skillful way of lively application on lifeless objects, and may help one to cultivate a sense of caring for other sentient beings. Thus, I wrote this essay to share the idea and the joy it may bring with all.
The Japanese Bon-Sai, potted plants, is a similar way to cultivate one's feelings.
Written in Chinese and translated into English on December 16, 2017
El Cerrito, California
Update to Tiny Fish-pond

One year ago, I set up a tiny fish-pond.
This year in Asia the same disciple offered me 5 flowers carved on turquoise, and I immediately thought of adding them to the fish-pond to accompany the fish.
I found a larger and beautiful shallow ceramic dish in a Japanese store and replaced the 5 fish into this new pond.
Today the package containing turquoise flowers arrived, so I am able to fulfill my intention as you see in the attached photos.
In Dharma fish is sometimes used to represent sentient beings, and hence, the fish-pond is placed in front of a stone statue of Guan Yin to signify my beseeching of blessing to all sentient beings from Guan Yin.

Yutang

December 18, 2018